Past Event
Thursday, May 16 2019
1:00–4:00 pm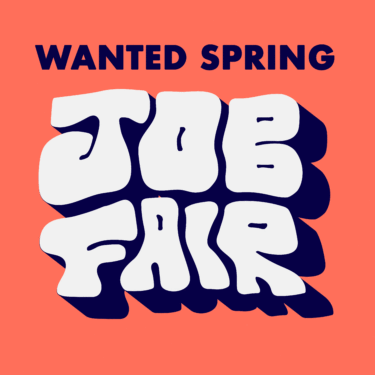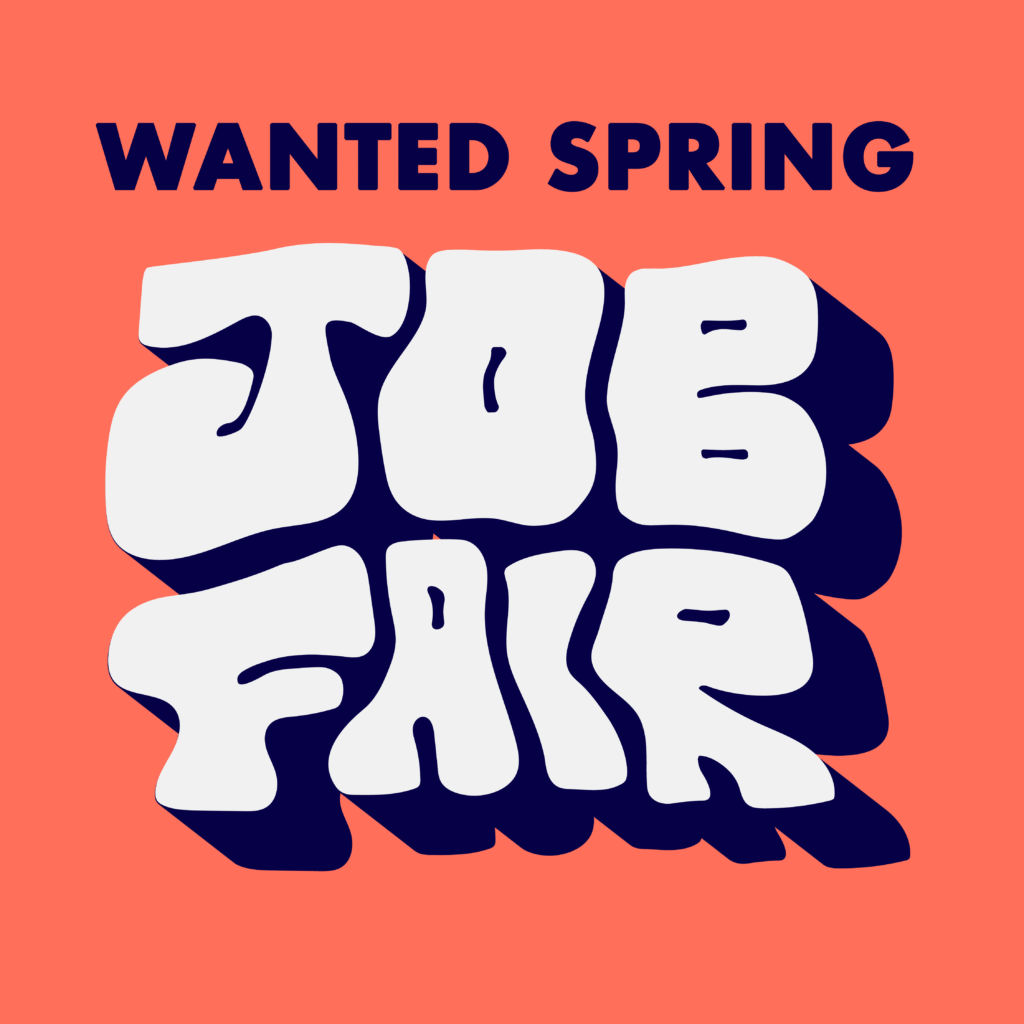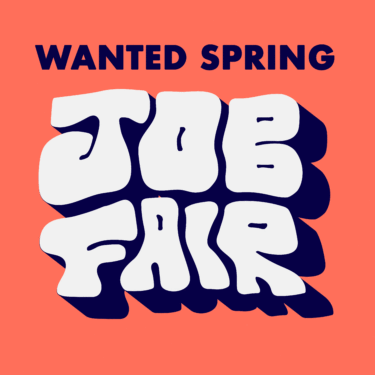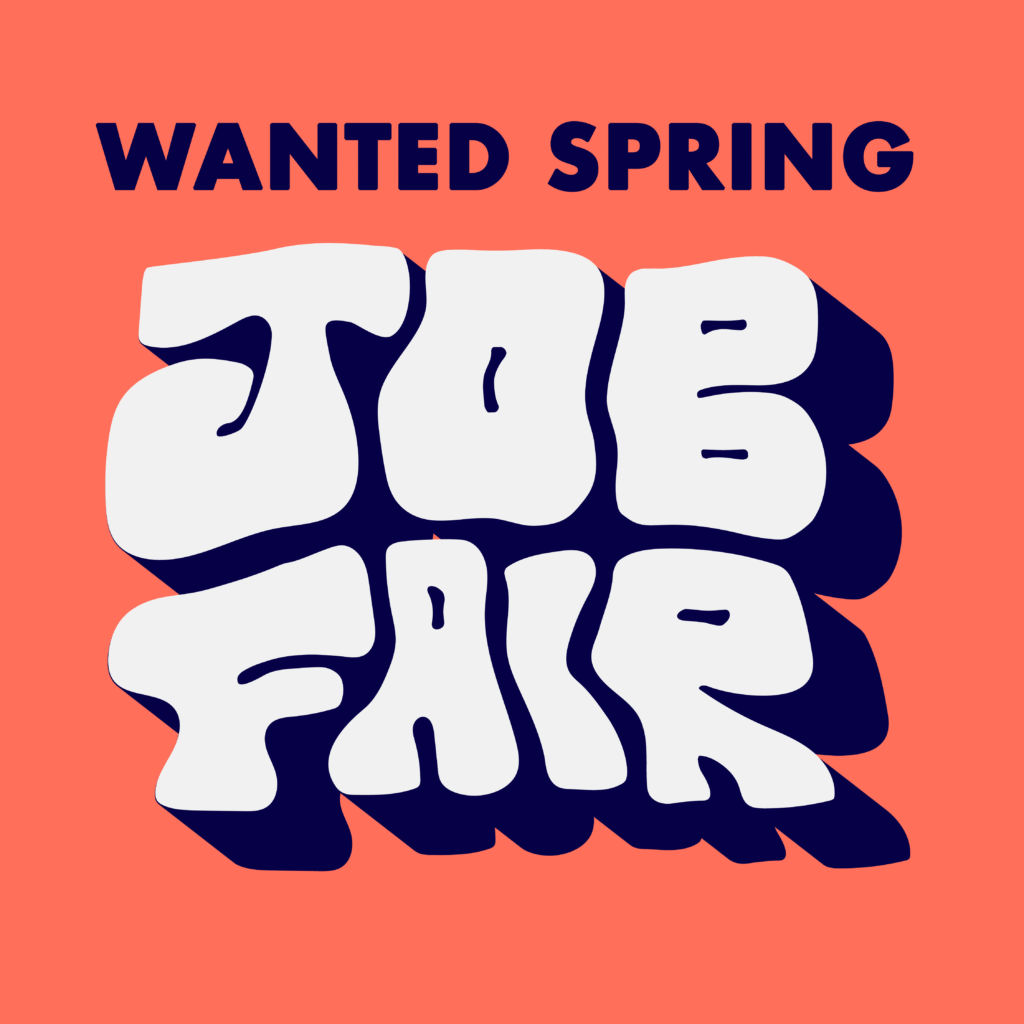 Thursday, May 16 2019
1:00–4:00 pm
Wanted
Spring Job Fair
Meet creative companies helping you take your first steps in the design industry.
Are you a recent graduate or just starting out designer? Join Wanted Design and AIGA NY for the third annual Spring Job Fair! Meet reps from New York's top creative companies and studios. Find out what a typical day is like for their designers and hear what creative directors are looking for in new designers like you.
It's speed networking meets the design industry and not another portfolio review. Come by, introduce yourself, and discover where to take your first steps in the design industry.
This event is in partnership with WantedDesign.
If your company is interested in participating, please contact Stacey Panousopoulos
Event Series: Work in Progress
Wanted Spring Job Fair is part of the Work in Progress event series. These events are focused on the creative process, personal development and professional development. They aim to give a peek behind the curtain and expose failure as a valuable experience.
Schedule
1:00 pm

Doors open & check-in

4:00 pm

Job fair ends
Tickets
Members

$5.00

Non-Members

$5.00
creativeplacement
Cultivated, curated, hard-to-find talent and resources.
creativeplacement® — a consultancy evolving brands and agencies where creativity and design thinking matters.
Packaging, Print, Interactive, Multimedia, Experiential and Advertising.
All the disciplines — senior level through emerging professionals in full time opportunities, off-site projects and on-site freelance engagements.
With 30 years of deep industry involvement — we've developed a highly effectual evaluation method — ensuring perfect matches for our talent and clients. We've helped build some best-of-breed brands, agencies and corporate creative teams throughout the greater Metro New York area.
forceMAJEURE Design
forceMAJEURE Design is an award-winning design consultancy comprising 30+ creative and passionate designers and strategists. Multidisciplinary and multicultural, we draw from a synergetic set of capabilities—strategy, visual and brand identity, product design and packaging, innovation, brand content creation,  brand experiences and retail design—to serve clients, move markets, and shape lifestyles in North America, Latin America, Europe, and Asia. Our industry expertise includes Spirits and Wine, Beauty, Fragrance and Body Care, Food & Beverage, and Fast-Moving Consumer Goods, and spans mass to super-premium offerings. You can find us at our studio located in Brooklyn's Industry City, a creative hub where makers and innovators meet.
JSTOR
JSTOR provides access to more than 12 million academic journal articles, books, and primary sources in 75 disciplines.We help you explore a wide range of scholarly content through a powerful research and teaching platform. We collaborate with the academic community to help libraries connect students and faculty to vital content while lowering costs and increasing shelf space, provide independent researchers with free and low-cost access to scholarship, and help publishers reach new audiences and preserve their content for future generations. JSTOR is part of ITHAKA, a not-for-profit organization that also includes Artstor, Ithaka S+R, and Portico.
McCann New York
We're McCann New York. This is where, for over a century, three simple words have led the way: Truth Well Told. It's our belief that consumer insights based in truth are crucial to building brands that last. We helped Coca-Cola teach the world to sing and Mastercard celebrate the things in life that are "Priceless." We're passionate and persistent, inclusive and inquisitive. Also, we like to laugh. And all of this finds its way into what we do best: create work that allows brands to play a meaningful role in people's lives. We're proud to have been named North American Agency of the Year at Cannes in both 2016 and 2017, and to have made Ad Age's A-List three years in a row.
NYFA - Resource
New York Foundation for the Arts (NYFA) is a nonprofit service organization that empowers working artists and emerging arts organizations across all disciplines at critical stages in their creative lives and professional/organizational development.
Interested in working within the creative sector? Check out NYFA Classifieds, the most comprehensive arts-focused opportunities board, with listings for jobs, opportunities, and spaces updated every day.
Pearlfisher
Pearlfisher is an independent creative business – the definitive partnership of Futures, Strategy and Design. We build the world's most desirable brands – Challengers & Icons – those that are paving the way now and those that will be loved forever. www.pearlfisher.com
?What If!
We are innovators who ask and answer the ?What If! Questions that help organizations imagine new futures and make them a reality. We provide the safe adventure that helps to de-risk ideas, accelerate impact, and empower people and organizational transformation by using the
best mechanism of learning in the world — experimentation.
At ?What If!, "Design to Learn / Design to Launch" is the driving philosophy behind our approach to design:
We Design to Learn by creating concepts and visuals to test with consumers. At this stage we are human problem obsessed, solution agnostic.
We Design to Launch by iterating designs based on deep human insights to launch them into the world creating impact for our clients.
Wolff Olins
We are Wolff Olins, a global branding agency. For more than half a century, we've been helping organizations advance into the next phase. Whether they're growing in their space or completely redefining an industry, our superpower is energizing people around change and action.
As creative problem solvers, we tackle the most daring challenges to build brands for relevance, growth and sustainability. By merging strategy and design, we create thoughtful brands that positively drive economic and cultural change. We may not change the world—but we partner with ambitious leaders who do.
Recently, our work has been honored by D&AD, Cannes Lions, Transform Awards, Webby Awards and Fast Company's Innovation Awards.
Let's see what we can do, together.
What should I expect? The purpose of the Job Fair is to meet and connect with people who work at a variety of different companies and learn about their design culture. You should expect conversations to be brief (5 minutes or less) on what it's like to work for the company. AIGA NY will also have a booth staffed with talented designers and educators for attendees to ask about career advice.
Can I come if I'm not a student or recent graduate? You're more than welcome to attend but do know that the event is geared towards our student and emerging designer community.
Should I bring my portfolio? No. The purpose is for information gathering and not a time to pitch to companies. You are welcome to follow up with the representatives afterwards.
No portfolios? What should I bring? You are welcome to bring your printed resumes, business cards, and list of questions for the representatives. Common topics include hiring procedures, timeframes, and qualities the company looks for in a designer.
What time should I arrive? The Job Fair will be open from 1-4pm. Feel free to come anytime during the fair.
How many people will be attending? We have about 250-300 attendees which means lines are likely to be long. We appreciate your patience!
What should I wear? The Job Fair is a casual event with no need for formal wear. Just be yourself!
Should I do any preparation? Yes! Review the companies that are attending and come prepared with a list of questions for the companies you would like to approach first.
Are refreshments provided? No, but you're welcome to bring non-alcoholic beverages.