Past Event
October 1–31 2013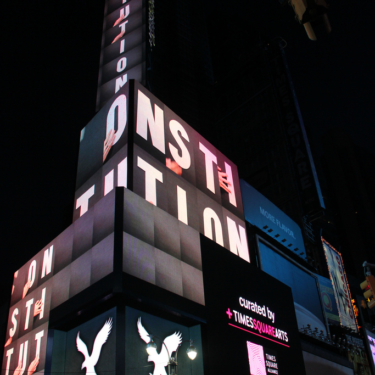 TIMES SQUARE ARTS, TSAC & AIGA/NY PRESENT OCTOBER'S MIDNIGHT MOMENT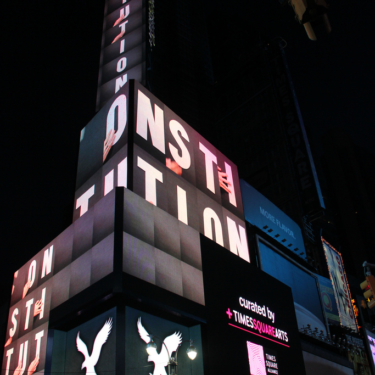 October 1–31 2013
TIMES SQUARE ARTS, TSAC & AIGA/NY PRESENT OCTOBER'S MIDNIGHT MOMENT
The AIGA/NY invited a select group of New York designers to submit videos for October's Midnight Moment. Midnight Moment is the largest coordinated effort in history by the sign operators in Times Square to display synchronized, cutting-edge creative content on electronic billboards and newspaper kiosks throughout Times Square every night.
Graphic Designer Andrew Sloat's video "1st Amendment (excerpts)" was ultimately chosen for its content, approach and distinctive execution. Using analogue techniques, Sloat focuses on the key elements of Times Square: color, words, and movement, with excerpts from the U.S. Constitutional First Amendment literally spelled out. The video reminds visitors of Times Square's strong identity as the nation's "town square."
"A place like Times Square exists because the rights of free speech and assembly are broadly defined and protected in America. Yet in an urban environment, these freedoms are also constantly negotiated. This twelve-channel video celebrates the simple words that make this globally-famous place possible." —Andrew Sloat
The video will premiere just before midnight on Tuesday, October 1st, and play every night throughout October from 11:57PM–midnight. Midnight Moment is a synchronized program and presentation of the Times Square Advertising Coalition (TSAC) and Times Square Arts.
See all of the videos created for October's Midnight Moment here.
Find out more about Times Square Arts Midnight Moment. This month's program is co-presented by AIGA/NY and Times Square Arts.