Past Event
Tuesday, May 10 2016
8:30–9:30 pm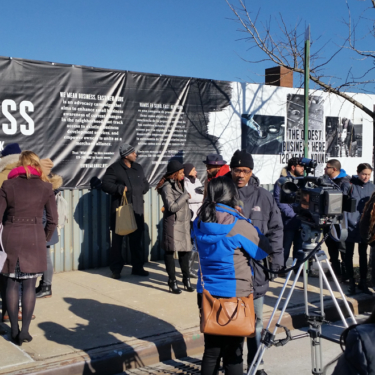 A Sense of Place, How Graphic Designers Make Cities too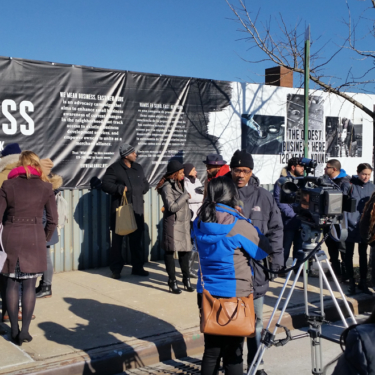 Tuesday, May 10 2016
8:30–9:30 pm
A Sense of Place, How Graphic Designers Make Cities too
Taking recent AIGA/NY civic initiatives, including Identity Design Action: East New York (IDeA:ENY), Dumbo Fitness Loop, and Design/Relief, this panel will investigate similarities and differences in process and approach and compare notes around key issues such as community engagement, urban transformation, and community identity building.
This panel is part of NYC Design Talks, a series which, during NYCxDESIGN offers inspiring topics featuring some of today's most insightful design thinkers exploring the relationship between design and community, the affects of design on everyday life and how it is shaping our future. Produced by Shaw & Co. Productions.
Panel participants:
Introduction by Manuel Miranda, AIGA/NY VP and David Frisco, AIGA/NY Treasurer
Moderated by Laetitia Wolff, AIGA/NY Program Director
Guest Speakers:
Alicia Cheng, AIGA/NY board member and principal at mgmt. design
Jodi Terwilliger, Creative Director, HUSH
Alexandria Sica, Executive Director, DUMBO Business Improvement District
Vanessa Smith and Megan Marini, principals, 3×3 Design
Lauren Coakley-Vincent, Director, Neighborhood Development Division, NYC Small Business Services
SPEAKERS
Jodi Terwilliger is the Creative Director of HUSH, a design agency in Brooklyn, NY. For his commercial work, Jodi has won numerous awards from ADC Global Awards to the One Show, and has been published in global media outlets both online and in print. As a conceptual artist and extreme minimalist, his work has been included in galleries from the MoMA to the Tate Modern (UK). Jodi is dedicated to an experimental process across all types of design, from graphic and digital, to experiential and architectural. Jodi led the HUSH creative team on the Dumbo Fitness Loop project.
Alexandria Sica is the Executive Director of The DUMBO Business Improvement District, where she oversees the organization's operations, marketing and advocacy efforts. Alexandria works with local stakeholders as well as government partners to increase investment in DUMBO; oversees programs such as street beautification, maintenance of public spaces, events programming and free public WiFi. Alexandria led the partnership with Parks Department and interfaced with DOT, DDC, MTA and SBS for the Fitness Loop.
Lauren Coakley-Vincent is Director of Capacity Building Initiatives at NYC Small Business Services (SBS). She joined the Neighborhood Development team after having spent two years overseeing operations and strategy for SBS's NYC Business Solutions Centers, spearheading a number of important initiatives benefiting NYC's small business community including the NYC Small Business Technology Coalition. She manages the Neighborhood Challenge grant program which supported Dumbo Fitness Loop in Year 2 and Identity Design Action: East New York in year 3.
Megan Marini and Vanessa Smith are the founders of 3×3 Design, a social innovation consultancy that works at the intersection of urban planning, design, and technology to create smarter programs and services for more livable cities. They apply human-centered, design research and engagement to improve urban planning programs, services and policies for diverse organizations including the World Bank, UN-Habitat, UNICEF, the City of Chicago, and the City of New York. Megan and Vanessa were the research and storytelling team on the IDeA:ENY project, collaborating with graphic designers Sarah and Jonathan Jackson, founders of WSDIA.
Alicia Cheng is an AIGA/NY board member and principal at mgmt. design, a Brooklyn-based design studio founded with Sarah Gephart. mgmt. design's projects have focused on print, branding, exhibition design, and data visualization. Selected clients include The New York Times, Yale School of Architecture, Modern Farmer Magazine, the Carnegie Museum of Art, the Museum of Chinese in America, and Vice President Al Gore. Alicia joined the board of AIGA/NY shortly after co-designing (with Anke Stohlmann) the Red Hook HUB for Design/Relief and has been advising on various Making the City initiatives.
Manuel Miranda is AIGA/NY Vice-President and a designer at MMP, whose recent work includes: exhibition design for the Sheila C. Johnson Design Center at The New School and the New York chapter of the American Institute of Architects; campaigns for New York City, including Office of the Mayor and the Department of Health; publication design for Center for Urban Pedagogy, Red Hook Initiative, and the Urban Justice Center; interactive design for the Nike Foundation; and institutional identity for Van Alen Institute. Manuel was instrumental in the creation of the Making the City platform and acted an advisor on the Design/Relief, Dumbo Circuit and IDeA:ENY projects.
David Frisco is AIGA/NY Treasurer and the principal of DFD: David Frisco Design, a collaborative design practice with an emphasis on clients with social purpose. He is an Adjunct Professor in the Undergraduate and Graduate Communications Design departments at Pratt Institute. David is Co-Creative Director of Design Corps at Pratt Institute, a pro-bono design program for non-profits, and Co-Coordinator of Public Project, a GradComD Initiative bringing public engagement opportunities to students. He founded IntraCollaborative, a socially minded design collective comprised of Pratt MFA graduates. David was the lead advisor on the IDeA:ENY project.
Laetitia Wolff is AIGA/NY program director for civic initiatives. As a design curator and creative strategist self-described as a cultural engineer, her work focuses on creating projects that build bridges between design and the city, and in the process generate new discourses and experiences around design's potential as a tool for change. She directed the creative placemaking program Design/Relief, subsequently helped build Making the City, brokered a pop-up annex in the Seaport Cultural District, raised funds from the city for Identity Design Action and oversaw the DUMBO Circuit and Identity Design Action: East New York.
Photo credit: Angelica Flores