Past Event
Wednesday, May 31 2023
6:30–8:30 pm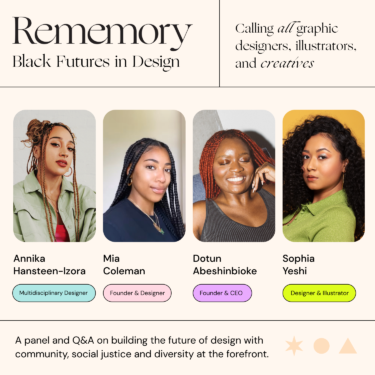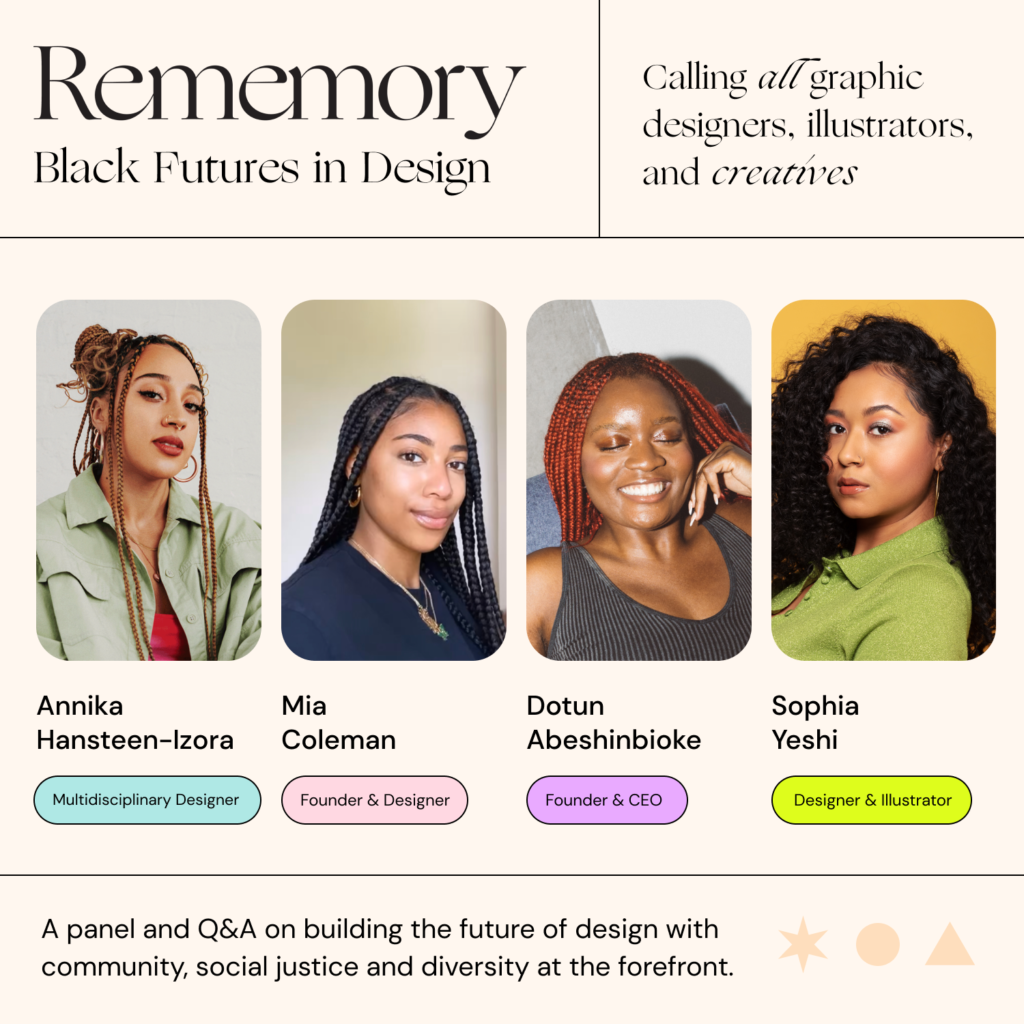 Rememory
Black Futures in Design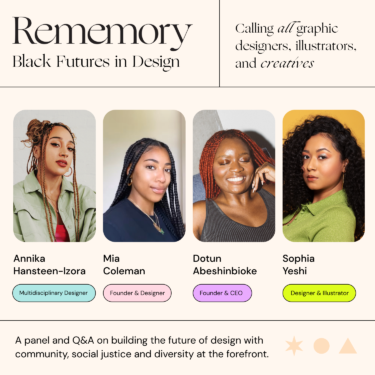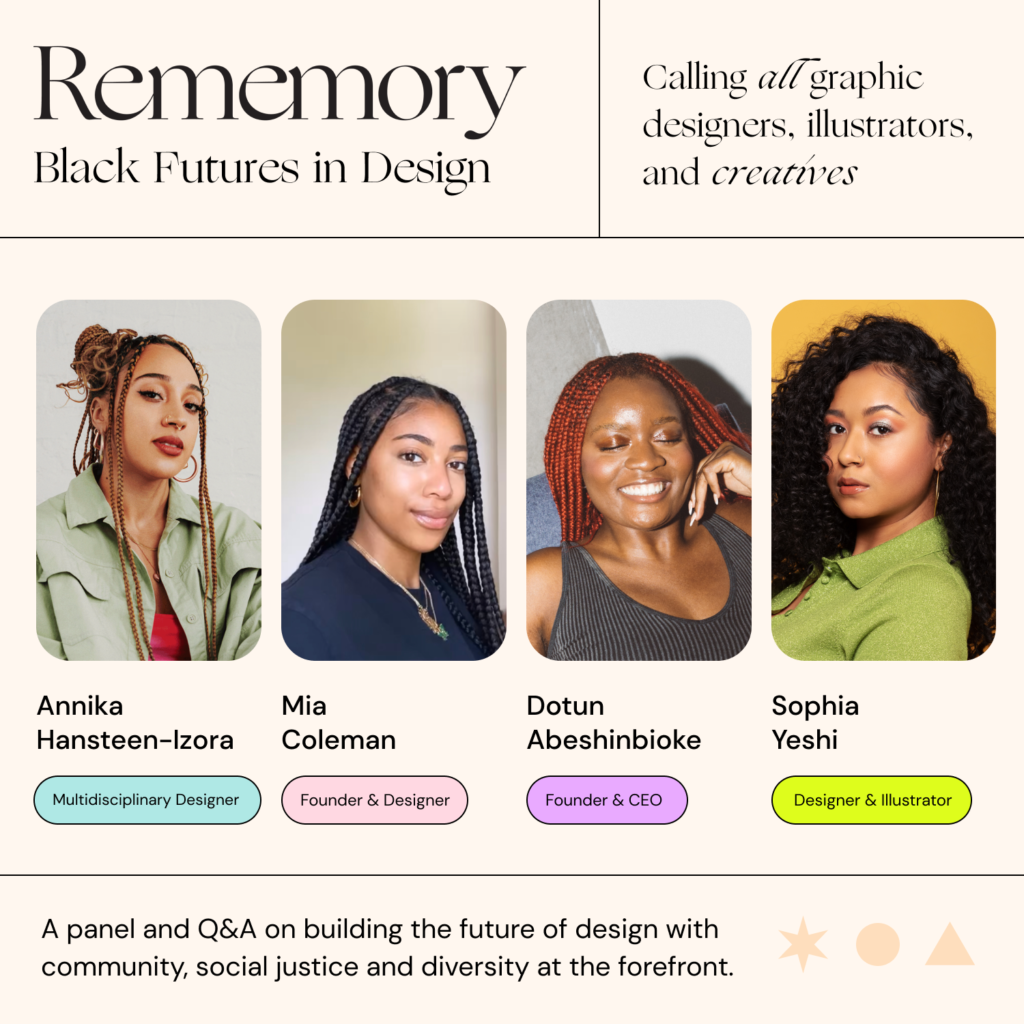 Wednesday, May 31 2023
6:30–8:30 pm
Rememory
Black Futures in Design
Online registration is closed. Tickets available at the door.
In collaboration with Rememory Directory's first in-person event, we are inviting all graphic designers, illustrators, and creatives for a panel featuring Black women and non-binary folks in the design industry. Hear from Illustrator and Designer, Sophia Yeshi, in conversation with Annika Hansteen-Izora, Head of Design at Somewhere Good, and Dotun Abeshinbioke, founder of Abike Studios. Each creative will share details on how their respective art and design practices enable them to build a future of design in which community, social justice and diversity are at the forefront.
Following the panel and Q&A, connect with like-minded creatives over refreshments.
Event Series: Fresh Dialogue
Rememory: Black Futures in Design is part of the Fresh Dialogue event series. These events are critical discussions that focus on current events, issues of cultural relevance and emerging topics in the world of design.
Tickets
We are committed to keeping events accessible to all participants. Your ticket and donation supports AIGA NY and costs associated with events such as speaker honorariums, productions costs, and venue fees. If ticket cost is a barrier, please contact Stacey@aigany.org.
Covid Protocol
This event is in person and in an indoor venue. In compliance with NYC COVID indoor gatherings, masks are optional.
Schedule
6:30 pm

Doors open & check-in

7:00 pm

Event begins
Tickets
Non-members

$15.00

AIGA Members

$10.00

Suggested donations

$20.00
Parsons - Starr Foundation Hall
—
University Center
63 5th Avenue, Room UL102
New York, 10011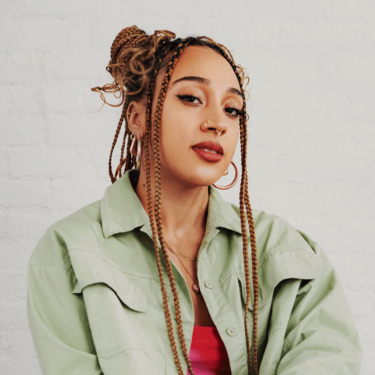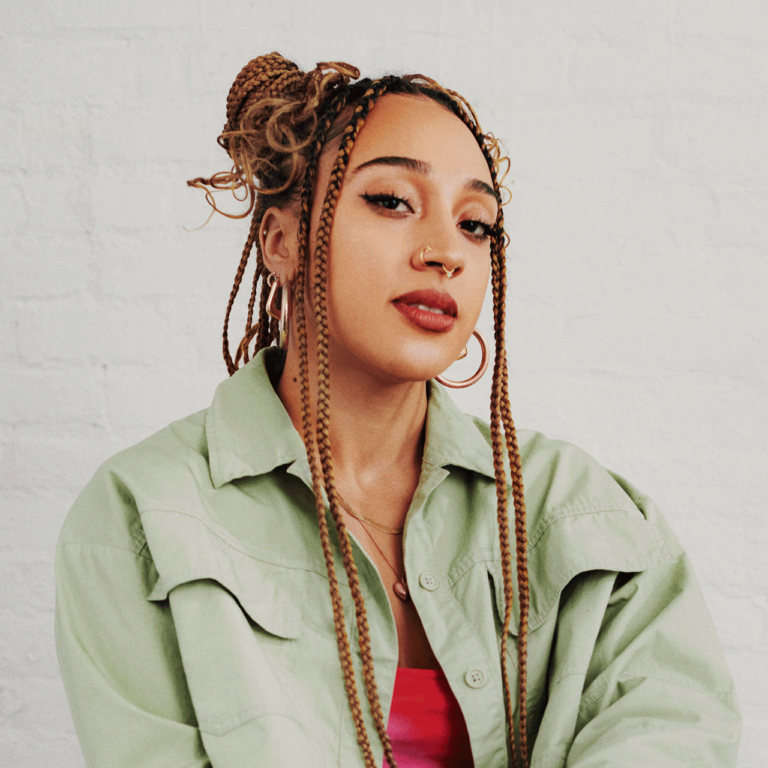 Annika Hansteen-Izora
Annika (they/she/he) is a multidisciplinary product, UI, and brand designer that's inspired to create digital experiences rooted in connection, joy, and play. They've designed apps, products, and brands for Intel, Samsung, MTV, Somewhere Good, Ethel's Club, artist Jamila Woods, and others.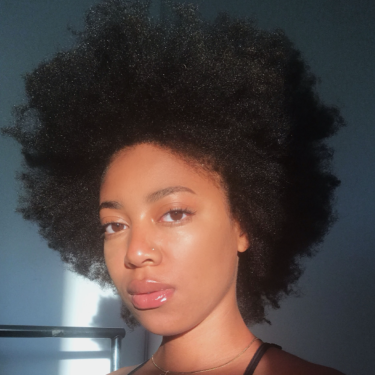 Mia Coleman
Mia is the founder of Rememory, a growing directory of Black women and non-binary creatives! She is also a Brooklyn-based graphic designer, illustrator, and art director currently at Vox Media. Mia's collaborators include Google, Adult Swim, Footlocker, Ulta Beauty and Twitter and more.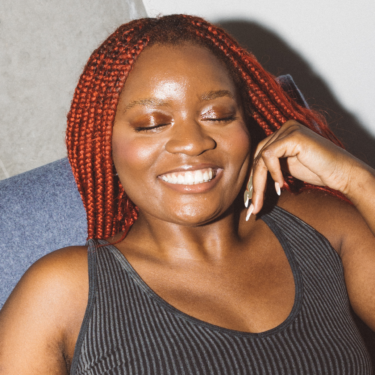 Dotun (Dots)
Dots is the founder & CEO of Ábiké Studio − a full service 360 creative agency pushing the boundaries of branding, design and art direction with a pan african view. A third-culture kid with roots in Nigeria & London, Dotun is now based in Brooklyn, NY and is known for her flair for modernized traditional African prints, colorways and playful approach. Recognized by Business Insider & having worked with Instagram, Paramount, Amazon Prime Video & Sony Music Australia, Dots is building a cadre of Black and African artists with a mission to bring Africa to the world.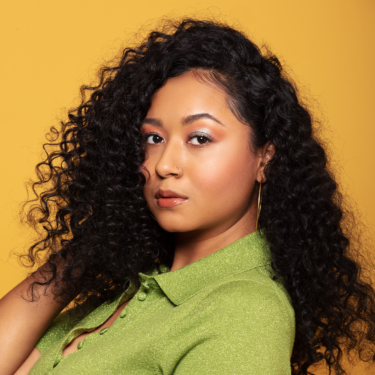 Sophia Yeshi
Sophia is a queer Black & South Asian illustrator and graphic designer in Brooklyn, NY. She uses her work to shine a light on Black women, women of color, and folks in the LGBTQIA+ community that are bold, dynamic, and demand attention. She uses her platform to intentionally celebrate the communities that she didn't see represented growing up. She works with brands such as UPS, Adobe, Netflix, Spotify, and Madison Square Garden to create culturally-relevant work centered around topics she's passionate about like LGBTQIA+ pride, support for underrepresented business owners, and mental health awareness.
Parsons - Starr Foundation Hall
—
University Center
63 5th Avenue, Room UL102
New York, 10011