Past Event
Thursday, April 3 2014
18:30–20:00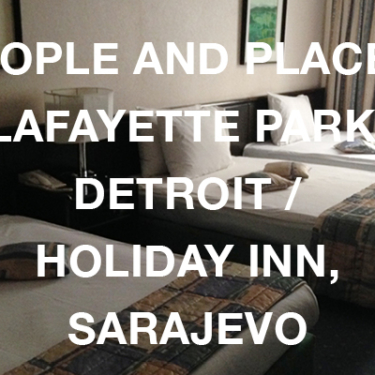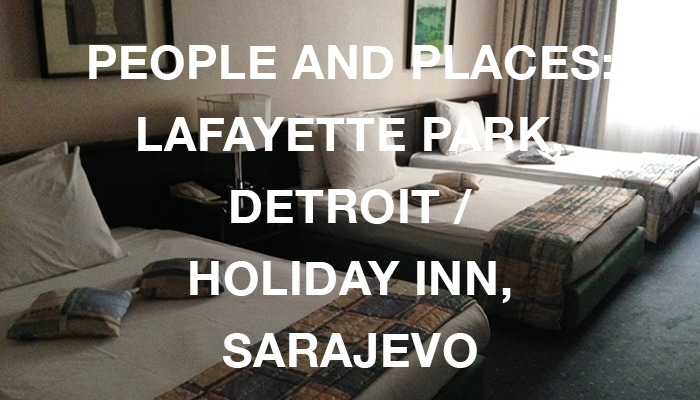 Placement People and Places: Lafayette Park, Detroit / Holiday Inn, Sarajevo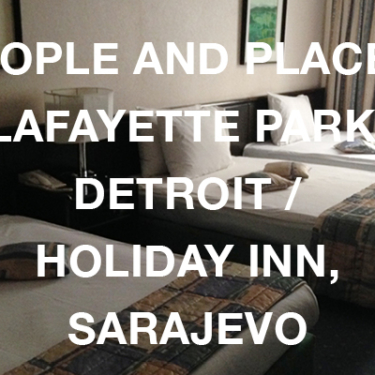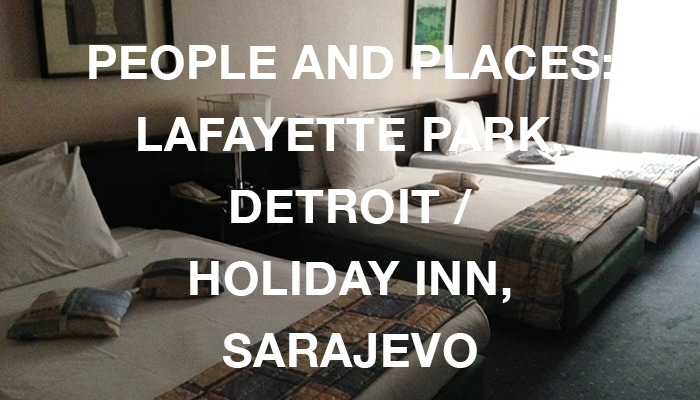 Thursday, April 3 2014
18:30–20:00
Placement People and Places: Lafayette Park, Detroit / Holiday Inn, Sarajevo
Placement is the third speaker in AIGA/NY's new series in collaboration with the Museum of Arts and Design, Owner at Self: Adaptive and Innovative Design Practices. Placement is Danielle Aubert, Lana Cavar and Natasha Chandani, graphic designers currently based in Princeton, Zagreb and Brooklyn. They come together to work on site-specific projects that examine the interaction between people and places. Their first book, Thanks for the View, Mr. Mies (2012: Metropolis Books) documented everyday life in Lafayette Park, a neighborhood of Mies van der Rohe-designed buildings in downtown Detroit, and was selected for a 2012 50 Books/50 Covers award. Their second major project will look at the Holiday Inn in Sarajevo (Bosnia), a hotel built for the 1984 Winter Olympics that later hosted war reporters during the siege of the city in the 1990s. They are currently working on a creative placemaking project in Rockaway, Queens as part of the AIGA/NY Design/Relief initiative. They teach graphic design at Princeton, University North Koprivnica and Parsons, and have done work for various clients including the Museum of Contemporary Art Detroit, Volume magazine, Arsenal Berlin and the Croatia Pavilion at the Venice Biennale. Placement was started in 2009.
OWNER AT SELF: ADAPTIVE AND INNOVATIVE DESIGN PRACTICES
Economic and technological upheavals of the last few years have challenged traditional notions of the design office. The Great Recession has made overhead a liability and long-term contracts less accessible; social media and the proliferation of image blogs allow designers to gain sizable followings overnight; and the desire to create meaningful and self-directed work has encouraged designers to look beyond billable hours to other forms of recompense.
In addition to showing their work, the designers featured in Owner at Self will share the adaptive and innovative strategies they've developed that allow them to make the work they want to make. Some initiate their own projects while others form geographically dispersed partnerships; some seek out alternative funding sources while others adapt their professional lives to their personal ones; all are taking the entrepreneurial risk to build practices that new conditions require.
SERIES SCHEDULE
MAY 15: Why Not Smile / Hoon Kim
JUN 12:  Everything Studio / Tom Griffiths, Jessica Green
THIS SERIES IS PRODUCED IN COLLABORATION WITH: