Past Event
Friday, May 15 2015
9:30–11:00 pm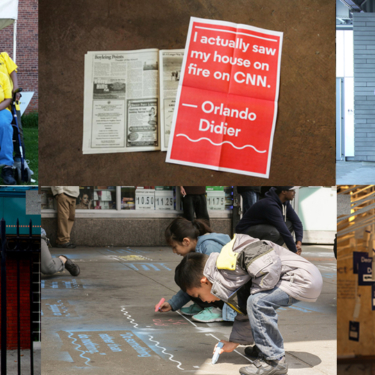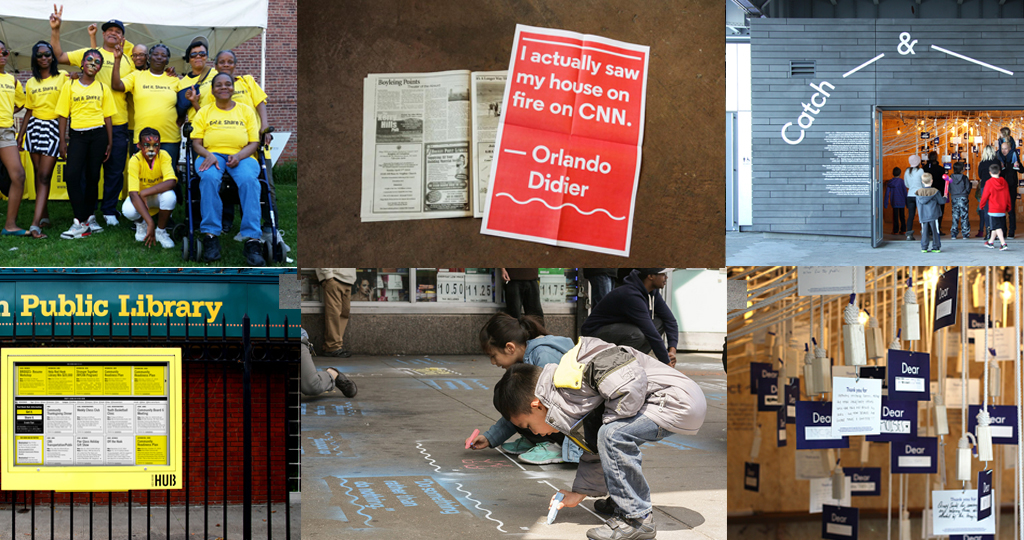 Legible, Visible, Navigable Graphic Designers Help Shape New York Communities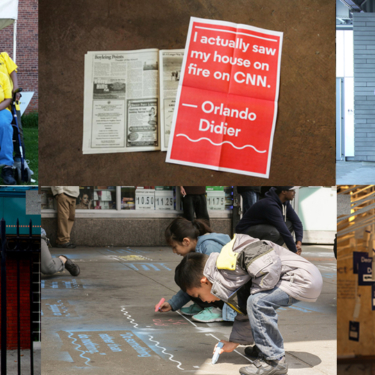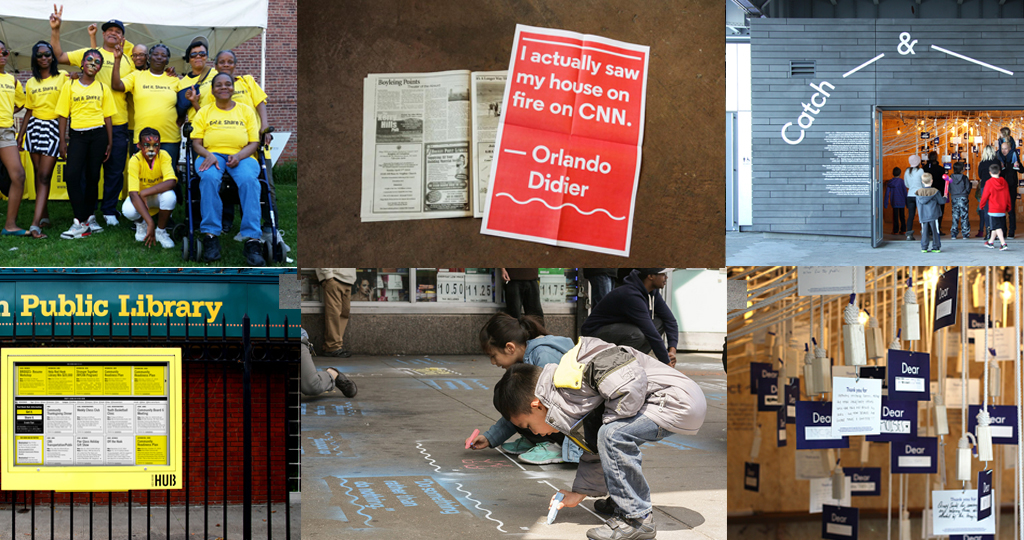 Friday, May 15 2015
9:30–11:00 pm
Legible, Visible, Navigable Graphic Designers Help Shape New York Communities
During NYCxDESIGN, AIGA/NY presents the final case study of Design/Relief, a creative placemaking initiative supported by ArtPlace, which addressed communication and information-sharing challenges in three waterfront neighborhoods of New York seriously affected by Superstorm Sandy.
The program will feature the Design/Relief documentary film and a panel composed of a selection of project designers, community partners, strategists and storytellers involved in the three Design/Relief projects in Red Hook, Rockaway and South Street Seaport. They will discuss their experience, lessons and vision for the role graphic designers can play in improving lives in urban communities. They will address the challenges of measuring impact, and how to continue encouraging change and stewardship in the community. The program will be moderated by Laetitia Wolff, Program Director, Civic Initiatives.
Speakers include:
Red Hook HUB project speakers
Alicia Cheng was one of the designers, along with Anke Stohlmann of Lil'Robin, on the Red Hook HUB project. Cheng is the founder with Sarah Gephart of MGMT., a collaborative design studio based in Brooklyn. They approach all projects with substantive research and a conceptual rigor that is an integral part of our process. What they like most is taking complex information and translating it into visually effective and intelligent design solutions. Along the way, their studio has learned about topics as diverse as rotational grazing, global special-ops, and the optimal temperature to grow collard greens. And despite their affection for the internet, they still believe books are for reading and love creating objects that are tactile and real.
Tony Schloss was one of the leading partners on the Red Hook HUB project, along with Good Shepherd Services and The Brooklyn Library. Schloss is Director of Community Initiatives at the Red Hook Initiative. As a resident of Red Hook and long time employee of the Red Hook Initiative, his current position allows him to meet with and create solutions with a wide variety of stakeholders, many of whom are also neighbors. Tony is the founder of the Red Hook WIFI, a free community wireless network, which played a vital role during the recovery period after Hurricane Sandy. He leads the Digital Stewards, Social Justice Fellows and First Responder programs at RHI and he is also an active member of the Red Hook Coalition.
"Dear Rockaway," project speakers

Daniel Latorre was the community engagement strategist on the Design/Relief "Dear Rockaway," project. Latorre is founder of The Wise City, is a civic engagement product and communications consultant. He is currently focusing on building communities of practice around place-based campaigns, arts, advocacy, and open source urbanism. He is the Senior Fellow for Digital Placemaking, a program for bottom-up, human-centered civic engagement media he started at Project for Public Spaces, a nonprofit planning, design and educational organization dedicated to helping people build stronger communities. With 18 years of professional experience at Razorfish, Rockstar Games, Funny Garbage and other companies, his current focus is on civil society, previously for open educational technology at Scholastic, and sustainable urbanism at Streetsblog/OpenPlans. Daniel offers talks, presentations, and trainings, recently at Columbia University GSAPP, School of Visual Arts, Center for Architecture, and MAPP International. He is also a steering committee member for the NYC Participatory Budgeting project, and active in community organizing around his Brooklyn neighborhood.
Milan Taylor was one of the main community partners on the Design/Relief "Dear Rockaway," project, along with Rockaway Arts Alliance and YANA. Taylor is Rockaway Youth Task Force's Chief Executive Office. Appointed to Community Board 14 in 2010, Milan founded RYTF in 2011, at age 21, after recognizing a dire lack of youth participation in the political and civic process. With this realization, Milan created RYTF as an advocacy organization composed entirely of young people in Rockaway. In 2012, Milan's mettle was tested during Superstorm Sandy. Along with his small team, he mobilized an extensive relief effort consisting of a national array of volunteers. He coordinated the exhaustive delivery of supplies, food, and other necessary resources to the elderly and homebound, who were stranded in high-rise apartments throughout Rockaway. CBS News and BET Honors recognized his efforts.
Seaport's Catch_&_Release project speakers
B. Tyler Silvestro was the storyteller on phase 2 of Catch_&_Release, Design/Relief's Seaport project. Silvestro is managing director at W architecture. Prior to that, Tyler came to WXY architecture + urban design with five years of experience in civil engineering, landscape architectural design, and journalism. There his work focused on urban design competitions and development in Hurricane Sandy-affected areas in New York and New Jersey. He led a team composed of design, financial, engineering, and scientific professionals through completion of the international design competition, Rebuild by Design. He received a master's degree in landscape architecture from City College. His time pursuing a graduate degree was supplemented with freelance writing assignments from The Architect's Newspaper, a notable New York based publication focused on architectural developments.
Catherine McVay Hughes was one of the community partners on the Catch_&_Release project. Hughes is the Chair of Manhattan Community Board 1 since June 2012 after serving six years as Vice Chair and seven years as Chair of CB1's World Trade Center Redevelopment Committee. After Sandy, she was appointed Co-Chair of the New York Rising Community Reconstruction Program for Lower Manhattan. In 2011, she was appointed to the WTC Scientific Technical Advisory Committee. Catherine has an engineering degree from Princeton University and a Masters of Business Administration from the Wharton School, University of Pennsylvania. Catherine and her family have lived one block from the World Trade Center since 1988.
Laetitia Wolff is the moderator of this program, conceived in collaboration with board member Alicia Cheng. Wolff oversaw the Design/Relief creative placemaking initiative as Program Director; she also directs the "DUMBO Circuit" and the "Identity Design Action: East New York" civic initiatives at AIGA/NY. Wolff is a design curator, strategist and author, self-described as a cultural engineer, interested in building bridges between design and the city. Her work focuses on creating projects that generate new discourses and experiences around design's potential as a tool for change, collaboration and investigation. She headed the nonprofit startup desigNYC as its first executive director following her 2010 launch of expoTENtial, an urban intervention platform that investigated design's strategies to address pressing environmental issues. In 2013 she co-curated "EmpathiCITY, Making our City Together" for the 8th edition of the Saint-Etienne International Design Biennale which activated the UNESCO Creative Cities network. She is an instructor in the SVA's Impact! Design for Social Change summer program.