Past Event
Tuesday, October 30 2012
12:00–12:00 am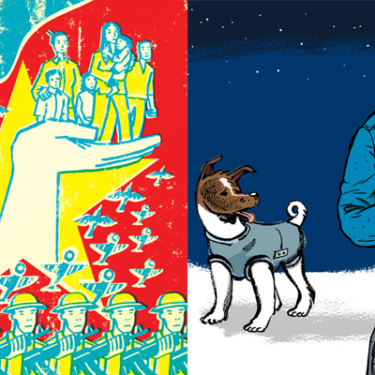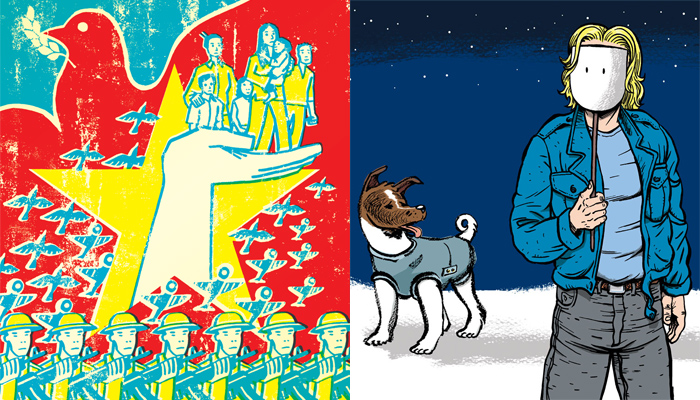 EVENT POSTPONED GRAPHIC NOVELISTS / NOVEL GRAPHICS THE FUTURE BELONGS TO STORYTELLERS WHO DRAW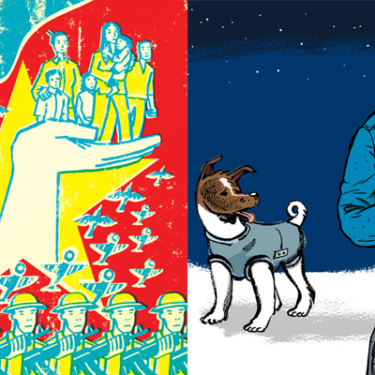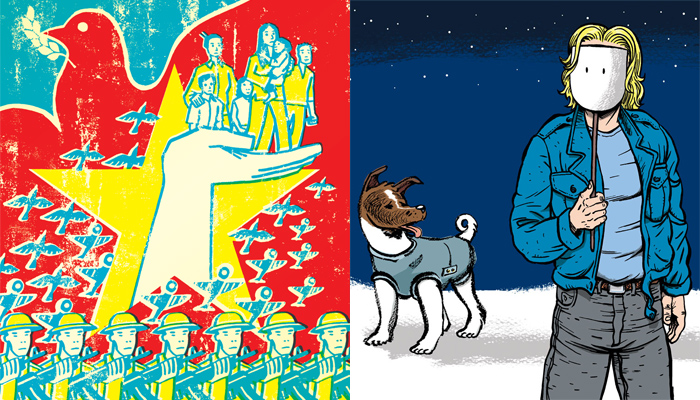 Tuesday, October 30 2012
12:00–12:00 am
EVENT POSTPONED GRAPHIC NOVELISTS / NOVEL GRAPHICS THE FUTURE BELONGS TO STORYTELLERS WHO DRAW
Due to Hurricane Sandy our event has been postponed to a later date. Date TBA. We apologize for any inconvenience this may cause. Be safe!
Two comic book titans, Nick Abadzis (author, illustrator of Hugo Tate, and Eisner Award-winning Laika) and GB Tran (Society of Illustrators gold medalist, author, illustrator of autobiographical VIETNAMERICA, one of Time Magazine's all-time Top Ten graphic memoirs) join forces to share their editorial, artistic superpowers with AIGA/NY. The pair, who share a deep respect for smart storytelling, will divulge highlights of their own design methods for and editorial approach to researching and producing their beautiful, informative and moving historical fiction comics and autobiographical graphic novels. Referencing sketches from their own work, and pointing to inspiration from elsewhere, they'll reveal the subtext that lies beneath the surface of a single page, describe their transition from drawing by hand to digital craftsmanship, and reveal why the future is visual and belongs to those who draw and think in pictures. This event is co-hosted with the Museum of Chinese in America, as part of MOCA's ongoing Marvels and Monsters and Alt.Comics exhibit program.
Moderated by Rachel Abrams, Turnstone Consulting.
BIOS
Nick Abadzis is a cartoonist, writer and graphic novelist of international renown who has been honored with various awards including the prestigious Eisner for his graphic novel Laika. To date, there have been ten foreign editions. He also works as a visual consultant, facilitator, corporate scribe and editorial consultant. He's devised various magazines and properties that have helped create lasting equity and sales for the numerous publishing entities and websites that he has been involved with. As a highly experienced author of stories for both adults and children, Nick has been published in the USA by Condé Nast, Macmillan, Marvel Comics, DC/Vertigo Comics and Tor.com, in Japan by Kodansha and Korea by Marubol Publications. His comics and illustrations have appeared in various national UK newspapers including The Times, The Guardian and The Independent on Sunday and he has been published in Europe by BBC Worldwide, Dargaud, Glénat, 2000AD, Punch and Atrium Verlag among others. His latest book is Hugo Tate, published by Blank Slate Books.
 GB Tran is a Brooklyn cartoonist/illustrator whose graphic memoir VIETNAMERICA details his family's journey of survival through the Vietnam War and their refugee migration to the US.  Having started as a comics self-publisher, VIETNAMERICA is the culmination of years of research and work squeezed in between his career as a commercial illustrator.  Born in South Carolina a year after his family came to the US, GB wasn't raised on stories of their hardships so it wasn't until his first trip to Vietnam in 2001 that the floodgates of his family's history of tragedy, trauma, and triumph burst open.  VIETNAMERICA has been included by TIME Entertainment on its all-time "Top 10 Graphic Memoir" list, and selected as one of the best books of 2011 by Library Journal, Kirkus, and School Library Journal.  It also earned GB a New York Foundation for the Arts fellowship in nonfiction literature, a gold medal for Sequential Art from the Society of Illustrators, and Eisner Comic Industry Awards nomination.
THIS EVENT IS CO-HOSTED WITH: