Past Event
Tuesday, September 19 2023
1:00–2:15 pm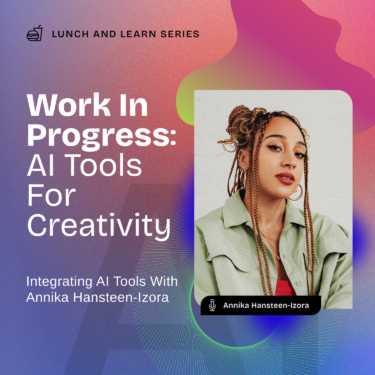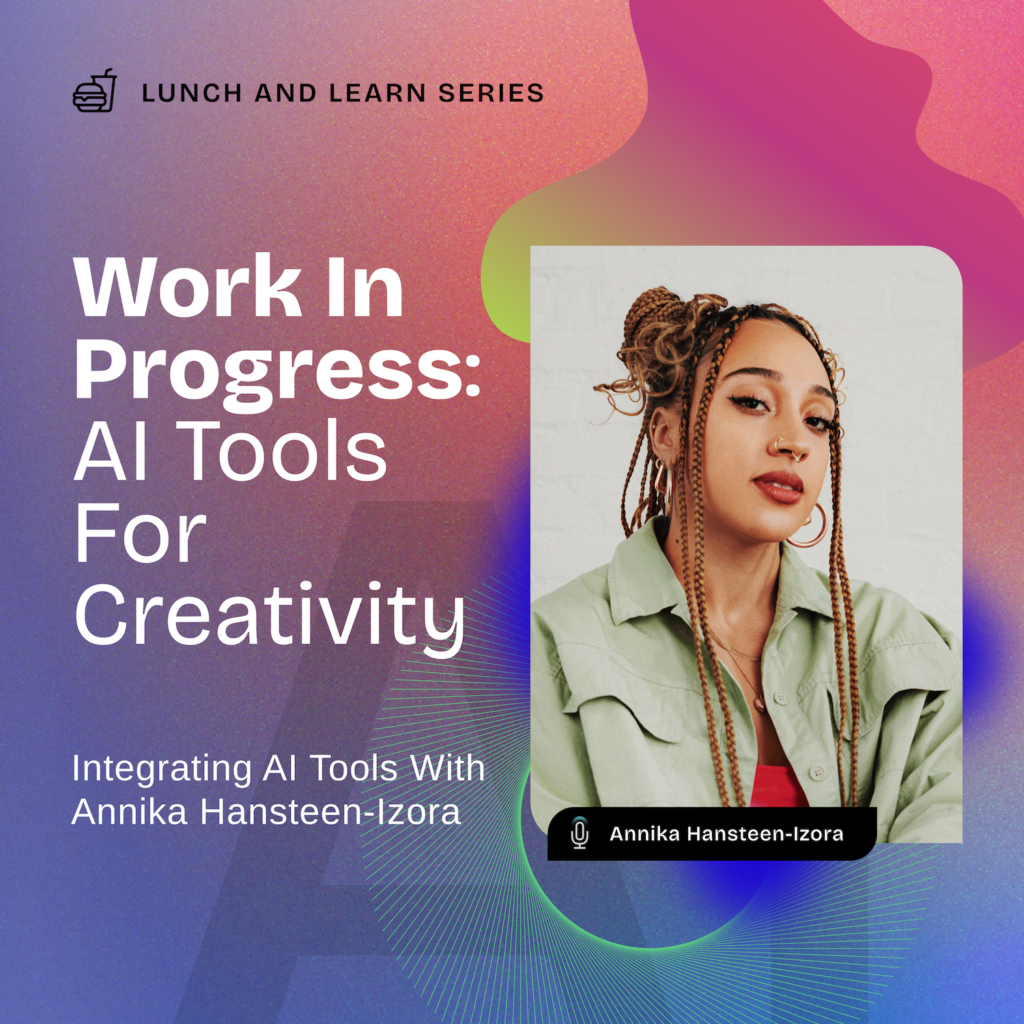 Annika Hansteen-Izora
AI Tools for Creativity: Integrating AI Tools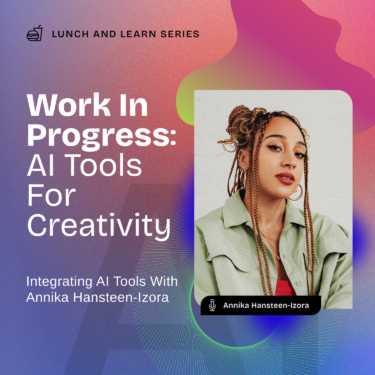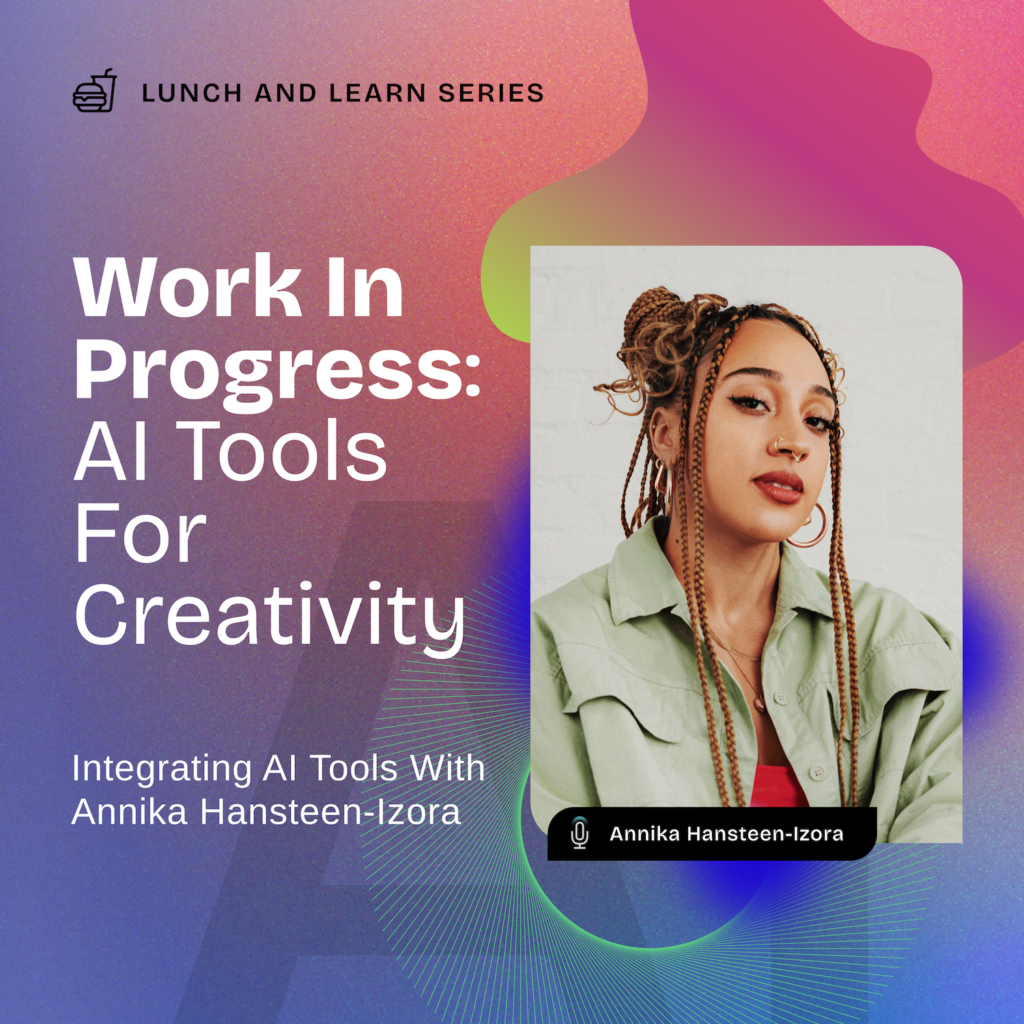 Tuesday, September 19 2023
1:00–2:15 pm
Annika Hansteen-Izora
AI Tools for Creativity: Integrating AI Tools
Explore and learn how AI tools can support your creativity and seamlessly integrate it to your work.
Multimedia product, UI and brand designer, Annika Hansteen-Izora will be sharing their insights on how they use genAI tool ChatGPT to support their design process for ideation and website/portfolio creation. Annika will begin with a critical look at AI use within design and discussing its ethical dilemmas, and then move into an examination of its potentials within design ideation and process.
This is the first in our lunch and learn series which features creative leaders and practitioners using AI tools such as ChatGPT, Midjourney, and other iterative genAI tools to help build on their creative process – from strategy, ideation, web creation, and operations.
Event Series
The AI Tools for Creativity Lunch & Learn is a part of the Work in Progress event series. These events are focused on the creative process, personal development and professional development. They aim to give a peek behind the curtain and expose failure as a valuable experience.
Tickets
We are committed to keeping events accessible to all participants. Your donation supports AIGA NY and costs associated with events such as speaker honorariums, interpreter and transcription services. If ticket cost is a barrier, please contact Stacey@aigany.org.
Schedule
1:00 pm

Virtual event begins

2:15 pm

Virtual event ends
Tickets
Non-members

$30.00

AIGA Members

$25.00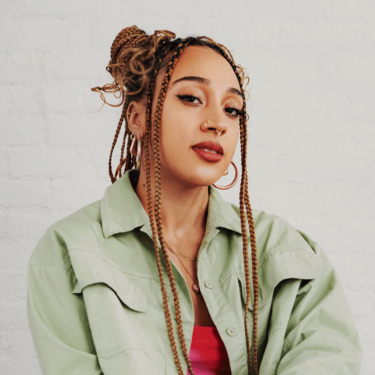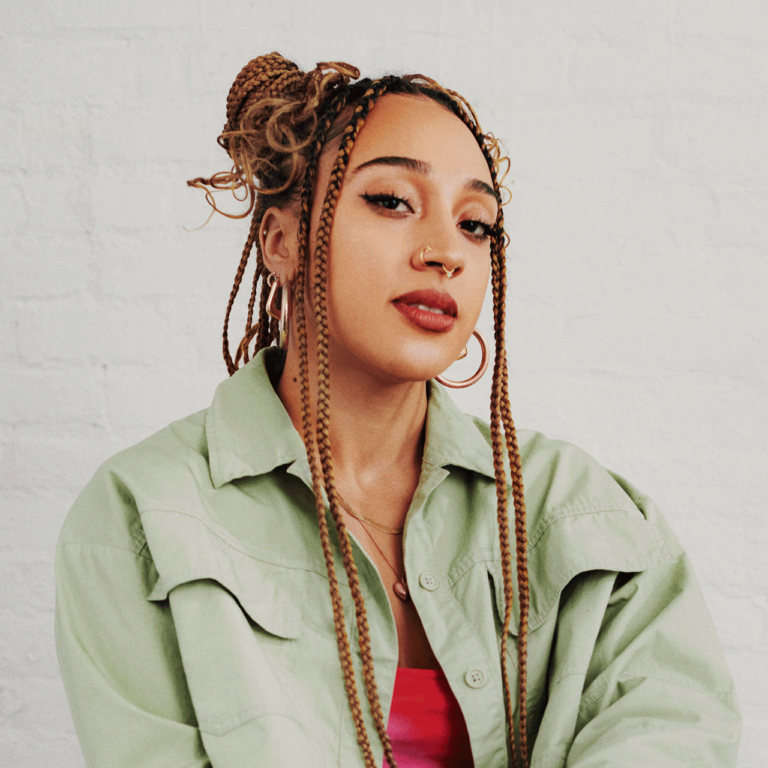 Annika Hansteen-Izora
Annika (they/she/he) is a multidisciplinary product, UI, and brand designer that's inspired to create digital experiences rooted in connection, joy, and play. They've designed apps, products, and brands for Intel, Samsung, MTV, Somewhere Good, Ethel's Club, artist Jamila Woods, and others.