Past Event
Friday, March 23 2018
11:00 pm–1:00 am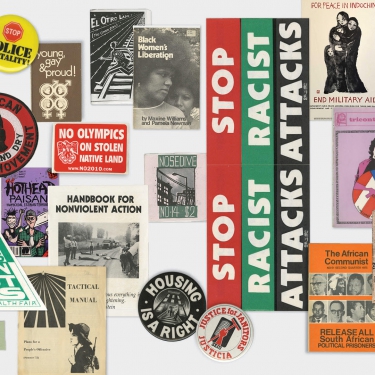 Workshop: An Evening of Interference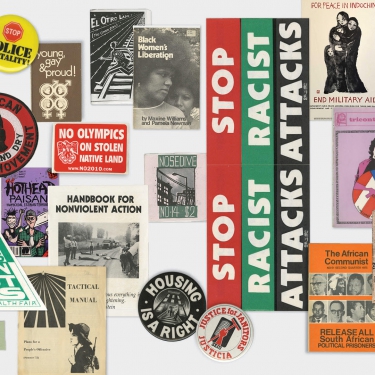 Friday, March 23 2018
11:00 pm–1:00 am
Workshop: An Evening of Interference
The Interference Archive is a unique, volunteer-run institution that catalogues and preserves graphic materials from myriad social change movements around the world. From anti-Apartheid pins, to fair housing brochures, to banners from the No Nukes movement of the 1970s, the collection explores the relationship between cultural production and social change movements.
This archive contains a wide variety of objects that were created as part of movements by the participants themselves: posters, flyers, publications, photographs, buttons, t-shirts, moving images, and other materials—all housed under one roof in Brooklyn's Park Slope. The organization approaches archiving through a "preservation through use" model in which the collection helps people discover (and rediscover) marginalized social histories and continue to build new social movements.
The evening, organized as part of AIGA NY's Citizen Designer Now! initiative, will give attendees the chance to see graphic organizing tools close up and to learn more about the context in which they were produced, with a special focus on the technology and rebel spirit of organizing and protest graphics. A designer and longtime Interference Archive volunteer will lead a tour of the space and show off some highlights from the collection. He will be joined by Citizen Designer Now! Fellows Sam Holleran and Carmen Lopez in an informal conversation on the role of DIY graphics in social movements.
Greg Mihalko is a designer and founder of Partner & Partners, a design studio in New York. He is a longtime Interference Archive volunteer and collaborator, co-organizing and designing the exhibition graphics for "We Won't Move: Tenants Organize in New York City" as well as collaborating on the design for "Finally Got The News: The Printed Legacy of the U.S. Radical Left, 1970-1979" publication. He teaches design at the School of Visual Arts.
Moderators
Sam Holleran is a Citizen Designer Now! Fellow with AIGA NY. He is a designer, artist, and writer who works in planning, participatory decision-making, public art, and urbanism.
Carmen Lopez is a Citizen Designer Now! Fellow with AIGA NY. She is a design researcher and social innovator with the heart of an artist. She wants to combine her visual communication skills, design thinking, and ethnographic research to positively impact the world.