Past Event
Friday, March 3 2023
12:00–4:00 pm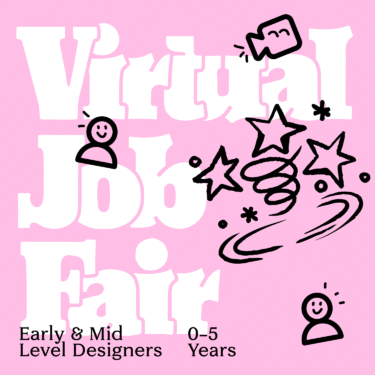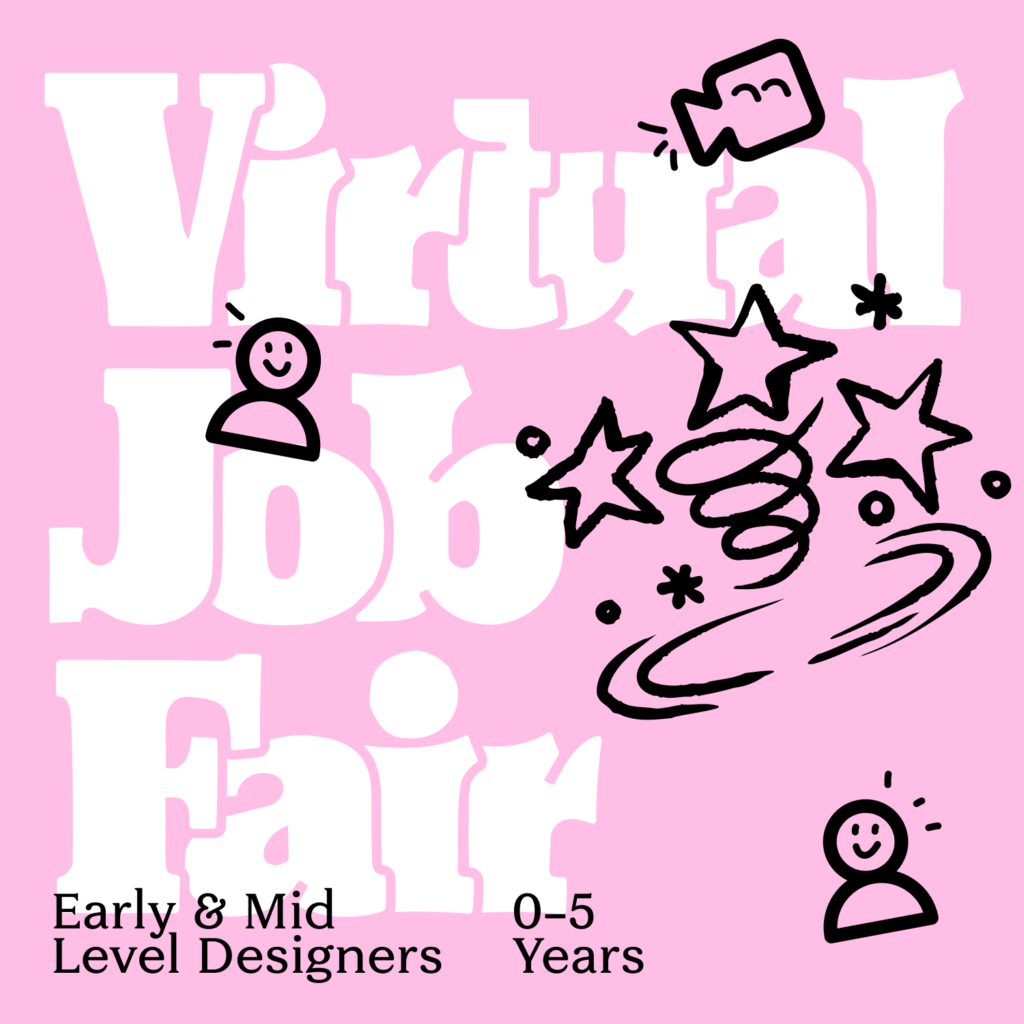 AIGA NY Annual Job Fair
Now for Early and Mid-Career Professionals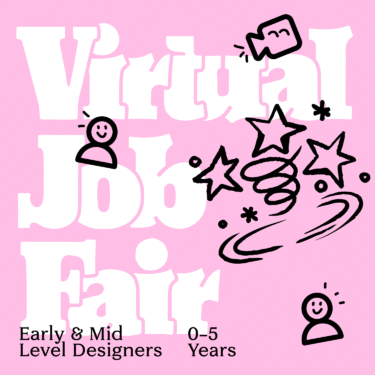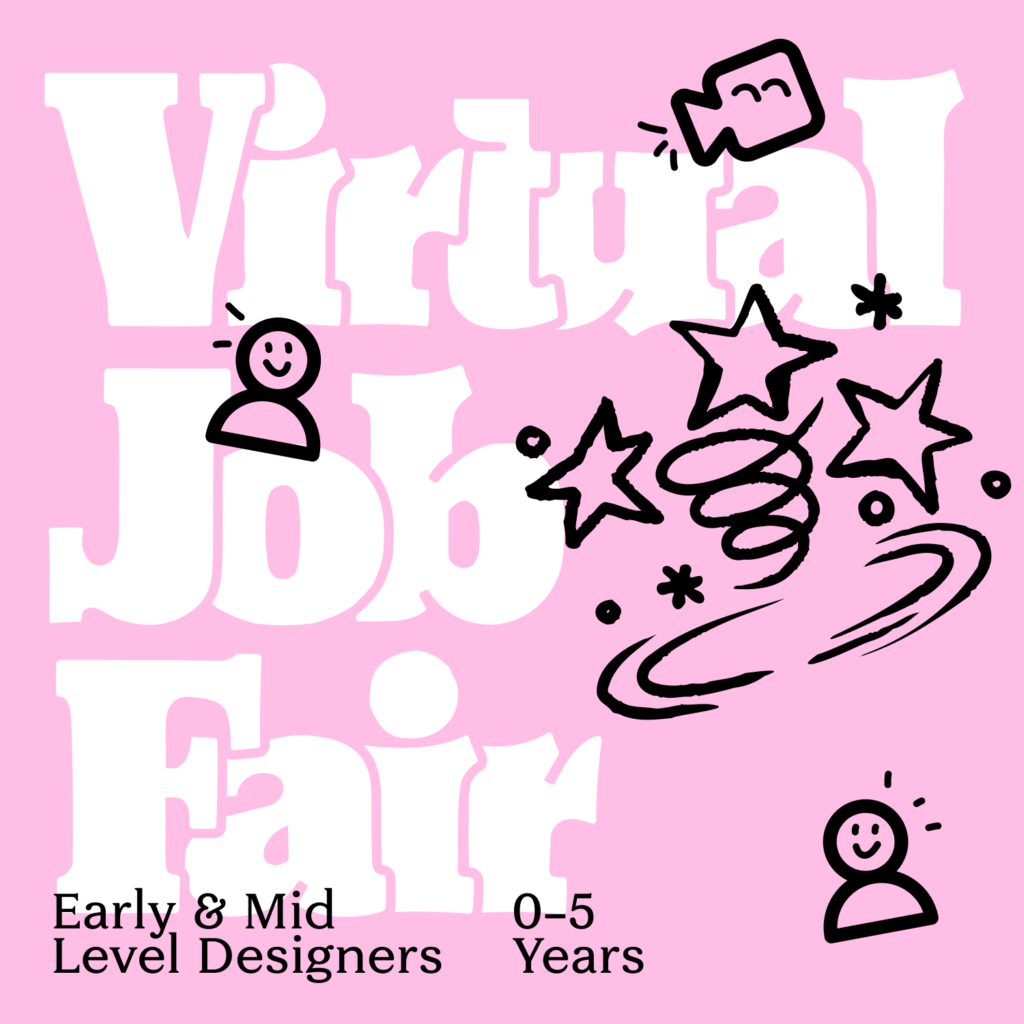 Friday, March 3 2023
12:00–4:00 pm
AIGA NY Annual Job Fair
Now for Early and Mid-Career Professionals
Join us for our annual job fair!
Are you a design student, recent graduate, or early to mid-career professional looking for a new role? Join us for AIGA NY's annual virtual job fair and meet creative companies helping you take the next step in the design industry!
Whether you're just getting started or are in the midst of a search for your next role, this year we're inviting designers in the first five years of their careers to participate. The job fair is a great opportunity to connect with representatives and recruiters representing New York's top creative companies and studios looking to connect with talented designers like yourself. Find out what a typical day is like for their designers and hear what creative directors are looking for in roles they're hiring for.
We'll also be hosting our Advice Booth, staffed with current AIGA NY board members ready to provide valuable information and insights to help you succeed in your career.
Log in, introduce yourself, and discover where to take your first steps working for a great company. We encourage you to read the Important FAQ's below.
Event Series: Mixers, Job Fairs, and Workshops
AIGA NY Virtual Job Fair is part of the Mixers, Job Fairs, and Workshops event series. These events are focused on community building, networking and exposing new working environments.
Event graphics: Troy Vasilakis
Tickets
We are committed to keeping events accessible to all participants. Your donation supports AIGA NY and costs associated with event production costs. If ticket cost is a barrier, please contact Stacey@aigany.org.
If your company is interested in participating all information is here.
Schedule
12:00 pm

Virtual job fair begins

4:00 pm

Virtual job fair ends
Participating Companies
More companies to be announced!
What should I expect? The purpose of the Job Fair is to meet and connect with people who work at a variety of different companies and learn about their design culture. You should expect company reps to go over hiring practices and be prepared to answer some basic questions. AIGA NY will also have an Advice Breakout Room staffed with talented designers and educators for attendees to ask general career advice. There is also a Meetup Breakout Room for you to meet your own peers! Each room will be labeled with company names for easy access.
How do I log into the virtual booths? On the day of the fair you will see all the different companies and their Breakout Rooms. You will be able to access them in the event.
Can I log in if I'm not a student or recent graduate?  Yes! This is now open to design students, recent graduates, or early to mid-career professionals looking for a new role.
I have more than 5 years of experience. Can I still join? This event is geared for designers in their first five years out of school. You are welcome to join, but we cannot guarantee that companies will be looking for more senior designers.
Will I be presenting my portfolio? In short, no. The purpose is for information gathering and not a time to pitch to companies. You are welcome to follow up with the representatives afterwards, so it's good to have a personal website prepared! All contact information will be provided by the company representative.
No portfolios? What will be discussed in the booths? We encourage you to bring questions for the representatives. Common topics include hiring procedures, timeframes, and qualities the company looks for in a designer.
What time should I log in? The Virtual Job Fair will be open from 12-4pm. Feel free to come anytime during the fair, but do know you will probably not have enough time to visit every virtual booth. We encourage you to visit the companies that interest you first.
What should I wear? The Virtual Job Fair is a casual event with no need for formal wear. Just be yourself! Please be prepared to have your video on.
Should I do any preparation? Yes! Before attending review the participating companies and come prepared with a list of questions for the companies you would like to go to first.