Past Event
March 5–5 2013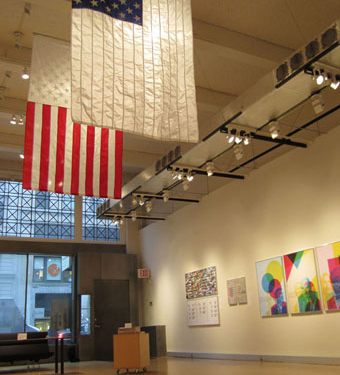 AIGA EXHIBITION WE THE DESIGNERS: REFRAMING POLITICAL ISSUES IN THE OBAMA ERA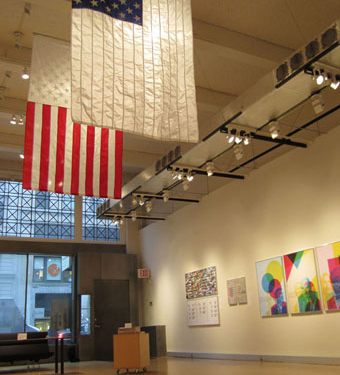 March 5–5 2013
AIGA EXHIBITION WE THE DESIGNERS: REFRAMING POLITICAL ISSUES IN THE OBAMA ERA
Politicians, journalists and pundits use language. Graphic designers use visual language. Drawing on two realms, designers unite visual and verbal content in compelling communication.
In a divisive era when words alone are not enough, can design thinking help unite citizens on the issues?
The 2008 campaign to elect President Barack Obama highlighted the role of graphic design in national politics. While previous campaigns used posters and collateral to great effect—the "I Like Ike" posters and buttons for General Dwight D. Eisenhower spring to mind—Obama's was arguably the first presidential campaign to employ a sophisticated professional strategy to create a candidate's visual identity. The Obama logo and typographic framework, developed by Sol Sender and Scott Thomas, represented a degree of sophistication associated more with corporate and institutional branding. It was unprecedented for political office. Just as influential, an unofficial poster by Shepard Fairey—despite copyright infringement prosecution for unauthorized use of an Associated Press photograph—fused the idealized image of the candidate with what was then a simple campaign slogan. Through design, Obama and the concept of "hope" became one and the same.
"We the Designers" is a national exhibition of self-authored graphic design. Through the process of design thinking participants wield opinion and analysis to inform and persuade about the unique issues facing the Obama administration.
SEE THE EXHIBITION
The exhibition is on view from March 5 through April 5, 2013 at the AIGA National Design Center in New York City. The exhibition is free and open to the public.
Gallery hours:
Monday through Thursday: 11:00 a.m. to 6:00 p.m.
Friday: 11:00 a.m to 5:00 p.m.
Gallery location:
AIGA National Design Center Gallery [map]
164 Fifth Avenue (between 21st and 22nd Streets)
New York, NY 10010
212 807 1990
Special thanks
This exhibition is supported by Northeastern University, Department of Art + Design.
This program is supported, in part, by public funds from the New York City Department of Cultural Affairs in partnership with the City Council.