Past Event
April 22–3 2013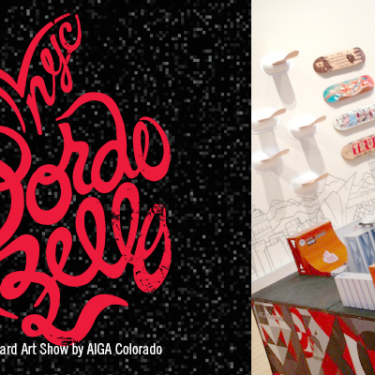 AIGA EXHIBITION: BORDO BELLO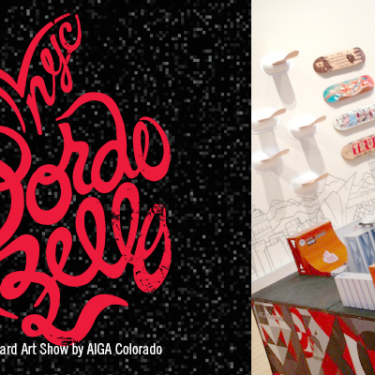 April 22–3 2013
AIGA EXHIBITION: BORDO BELLO
Bordo Bello is a skateboard art show hosted by AIGA Colorado. It is an annual event that has worked with over 1000 artists to provide a unique collaborative art show in celebration of the colorful Colorado lifestyle.
This exhibit is a unique collection of skateboard decks from previous Bordo Bello events, and some brand new artwork available for purchase during our opening reception.
It is a rare chance to see the diverse display of talents from people who wouldn't normally have their work shown together on the same walls, much less featured in a gallery. Student artists, professional designers, and nationally recognized names in design and street art, have come together over the years to celebrate design, and our creative community while contributing to great causes.
Artists include Debbie Millman, James Victore, Jon Contino, Dana Tanamachi, Johnny Cupcakes, Louise Fili, Matteo Bologna, Will Bryant, Mig Reyes. Alex Bogusky, Jessi Arrington and more.
The new artwork is available to you through a silent auction during our opening reception Wednesday, May 8th from 6:00-9:00PM.
This reception will be like no other hosted here at AIGA. In addition the silent auction, there will be craft beer, a DJ as well as the opportunity to try out a custom made TechDeck Skatepark.
Join AIGA for this event! All proceeds from the auction goes to mentorship programming in AIGA chapters across the US.
RECEPTION & AUCTION:
Wednesday, May 8th 6:00-9:00PM
AIGA National Design Center Gallery
164 Fifth Avenue (between 21st and 22nd Streets)
New York, NY 10010
212 807 1990
SPECIAL THANKS TO OUR SPONSORS: